Image by elycefeliz via Flickr
As part of my long and serious effort to know everything about everything, I've been interested in snake people. In reality there is no snake men or women. But there is a lot of snake human interactions, symbols, and cultural and religious beliefs regarding them. One that just came to mind that I hadn't thought of until now is the story of the serpent in the Garden of Eden in the book of Genesis in the bible.
In the LDS beliefs, the serpent is mostly a symbol, and Satan, or Lucifer, actually did participate in tempting Eve to partake of the forbidden fruit, which, to our beliefs, is not some archaic symbol for sexual sin, but... an archaic symbol... well not really a symbol, but the actual first disobedience of Adam and Eve.
Image via Wikipedia
For Mormons, this was a necessary event so that Adam and Eve, and all of us their descendants, could know right from wrong, and choose whether to follow God or not. We feel that the phrase "in the day that thou eatest thereof thou shalt surely die" means that Adam and Eve became separated from God, spiritually dead, when they disobeyed him. Anyway, I'm way off topic...
King James Bible: Genesis 2:16-17 From:
http://lds.org/scriptures/ot/gen/2?lang=eng
16
And the
Lord
God
a
commanded
the man, saying, Of every tree of the garden thou mayest
b
freely
eat:
17
But of the
a
tree
of the
b
knowledge
of good and evil, thou shalt not eat of it: for in the
c
day
that thou eatest thereof thou shalt surely
d
die
.
http://www.evilsunday.com/sala-keoku-park/
In the Buddhist and Hindu cultures snake people are called Nagas or something similar. In these cases they tend to be somewhere between gods and people, with human heads and snake bodies, or sometimes with multiple human heads on a single snake torso and tail. While nagas are often used in modern fiction, they have a root in the beliefs of many peoples in Asia.
http://en.wikipedia.org/wiki/N%C4%81ga
Yuan-Ti, on the other hand, appear to be a completely fictional group created by Dungeons and Dragons. They are an evil underground race of snake people. As far as I can tell the AD&D Yuan-Ti have two legged females and snake tailed males. This is totally sexist. Females have two legs because having two legs allows for more hotness... whereas for males they don't care about hotness, and can focus on ferocity, for which the one tail allows the impression of possible speed or constricting power etc. Lame!
http://en.wikipedia.org/wiki/Yuan_Ti
http://tvtropes.org/pmwiki/pmwiki.php/Main/SnakePeople
And then there's Lamia. Lamia was a Libyan queen in Greek mythology that was seduced by Zeus, and for one reason or another, often involving the deaths of her own children, she started eating her own. She is sometimes considered to have a snake's tail below the waist.
http://en.wikipedia.org/wiki/Lamia_(mythology
)
http://forgottenrealms.wikia.com/wiki/Yuan-ti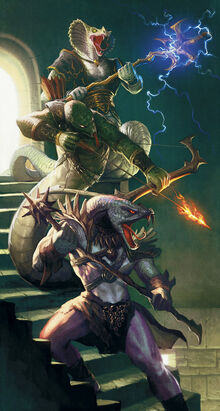 http://forgottenrealms.wikia.com/wiki/Yuan-ti
Snakes play a role in the lives of many peoples, for example, there are many taboos about snakes among the traditional Navajo:
http://navajocentral.org/navajotaboos/taboos_nature.html
http://132.209.40.23/w4/campagne/images/WotC_Art_Galleries/Serpent_Kingdoms/
http://132.209.40.23/w4/campagne/images/WotC_Art_Galleries/Serpent_Kingdoms/
The Hopi believed that there was a tribe that descended from snakes:
http://www.firstpeople.us/FP-Html-Legends/The_Origin_Of_The_Hopi_Snake_Clan-Hopi.html
http://www.nuklearforums.com/showthread.php?t=7608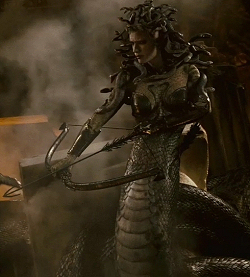 http://www.unearthlytales.com/the-naga-and-medusa.html